Applying for app certification
What is app certification?
App certification is the process of having the HubSpot product team technically review and approve your listed app for quality and efficiency. Once approved, your app will have a certification flag on your app listing page.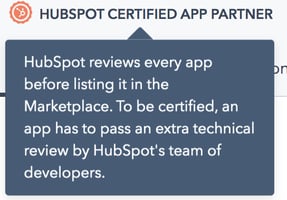 Why does it matter?
A certified flag on your app listing lets prospective or existing users know the HubSpot product team completed a technical review and approved your app. It's ultimately a way to build trust and symbolize quality with prospective users of your app. Learn more about how to build customer trust through certification here.
How does it work?
Any eligible app partner can apply for certification through their app developer account. The HubSpot team will then review your submission and your partner manager will be in touch to provide feedback or confirm your app's certification.
Is my app eligible for certification?
Ensure your app is eligible for certification by reviewing our certification guidelines. You won't be able to apply unless your app has at least six installs and the required amount of API traffic.
How do I apply for certification?
Log in to your developer account and navigate to App Marketplace > Listings.
Hover to the right of the app you'd like to certify and click "Apply to certify app."
Create a demo video of your app, which should include:

A brief overview of your integration
The installation process and any additional set up steps or requirements
A walkthrough of the post-installation customer experience, including:

Tasks performed
Data flowing to and from HubSpot
APIs used to push/pull data
HubSpot UI components (CRM extensions, timeline events, workflow extensions) your app integrates with or extends
The uninstall flow

Tip: Loom is a free tool you can use to record a demo video.

Fill in your app's testing credentials so HubSpot can evaluate its functionality.
Click "Submit certification application."
Why is the certification CTA not appearing for my app?
The "Apply for certification" button will only appear if your app is eligible to apply. Please review our certification requirements or reach out to your partner manager if you have any questions about eligibility.
How will users know my app is certified?
Once certified, your App Marketplace listing will have a prominent "HubSpot Certified App Partner" flag.

When a user hovers over the flag, they will see an information bubble on how apps are certified.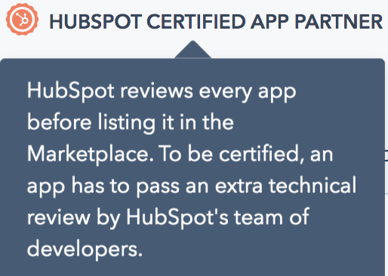 ---
Related docs
App certification requirements