Listing your app
After you've created an app in your developer account, you can submit a listing to add it to the HubSpot App Marketplace. HubSpot will review your submission and follow up via email. Note: You must be a Super Admin to update and submit an app listing. If the "Submit for review" button is grayed out, check that you've filled out all the required fields and have Super Admin permissions.
In this doc:
How do I create an app listing?
Log in to your developer account. If you're a marketer, sales rep, product manager, or in another non-developer role, you may need to be added to this account. If you don't see it listed as an option, ask an admin or someone on your IT team for help.
From the main menu in your developer account, go to App Marketplace > Listings.
Click "Create listing." (If this button is grayed out, listings were already created for all your existing apps.)
Select the app you want to create a listing for and then click "Next." (Apps that are already listed on the App Marketplace won't appear here.) This will take you to the submission form.

The submission form is broken up into five categories:
Listing info
App details
Pricing
Support info
Review info
Before creating a multilingual profile
When a profile is published on the App Marketplace, content like section titles and field labels are localized into English, German, Spanish, French, Japanese, Portuguese, and Dutch, but user-written content isn't automatically translated. Instead of creating multiple profiles in different languages, try to incorporate multilingual content for important information like app descriptions.
Listing Info:
App information
This is where you'll enter basic information about your app:
Public app name
Company name
Tagline
Connect button URL
App icon
Upload an 800px by 800px icon for your app. This will appear in the App Marketplace and in connected users' accounts.
Best practices for app icons:

DO: Use a JPG, JPEG, or PNG file
DO: Fill the entire space (800px by 800px) - your image should touch at least two edges
DO: Use a high-res, un-pixelated image
DON'T: Include text in your icon
DON'T: Use a wordmark, as the app name will appear next to the icon
DON'T: Leave extra whitespace around your icon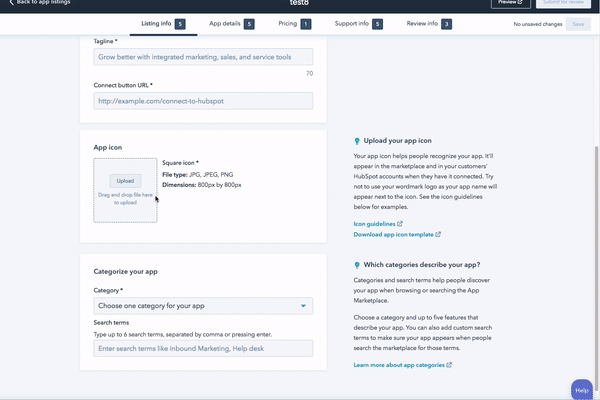 Categorize your app
Add a single category and up to six search terms for your app.
App details

Upload a video, which should:
Be an MP4 file and under five minutes
Contain no sensitive info
Provide users with an overview of your app and key use cases
Outline the data that'll sync to or from HubSpot
Show the relevant HubSpot UI elements (i.e. CRM extensions, timeline events, or workflow extensions) and how to use them
Images
Add up to eight captioned images showing how your app works.
App Overview
People want to know how your app will help them get their work done, so this section is a great opportunity to really sell your app. Highlight a few key benefits that people can expect when using your app with HubSpot.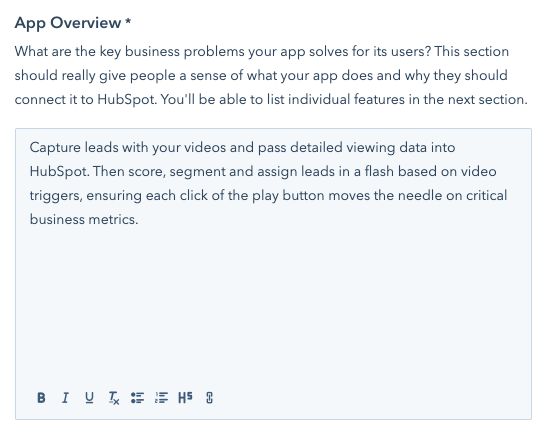 App Features
Here you'll describe a minimum of two (and up to five) specific features users will get when they install your app.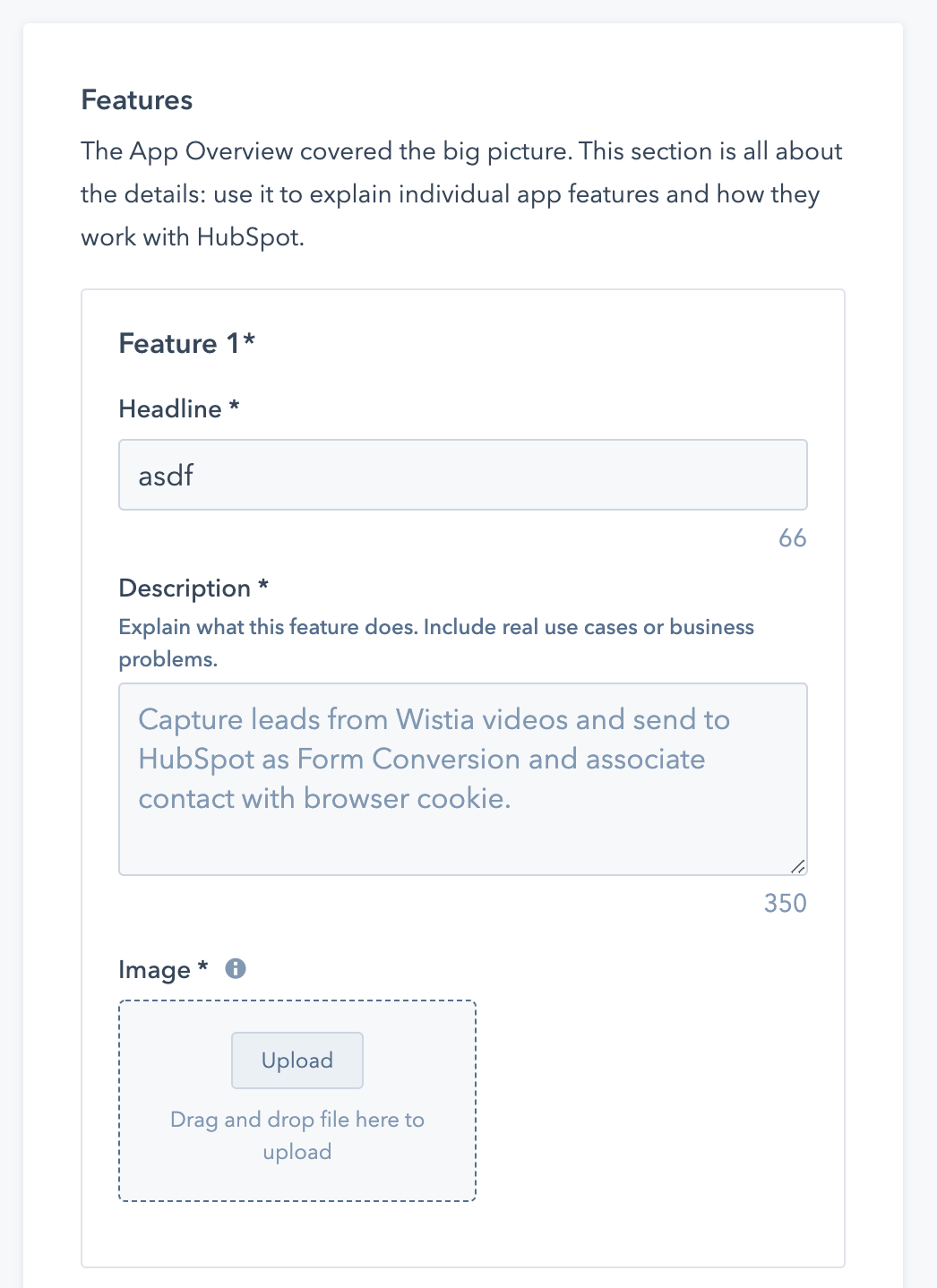 HubSpot features your app works with
Use the dropdown menu to select up to 10 HubSpot features your app works with.

Shared data
Explain how data will move between HubSpot and your app.

Other tools your software integrates with
In this optional section, select up to six other apps that integrate with your software.
Pricing
Here you can add up to five pricing plans to let HubSpot users know how much your app costs. Select a plan type (free, one-time fee, recurring fee), describe additional charges, and (optionally) add plan features. The more transparent your pricing is, the better.

Link to your software's pricing plans:
Link back to your website's pricing page.
Agency pricing plans:
If you offer partner agency services, add a link to the page on your website where people can learn more.
Support info
Here you can provide users with self-service resources and contact information. The more support methods you provide, the more trustworthy your app looks. You'll also need links to your Terms of Service and Privacy Policy.
Review info
Our team of developers will test your app as part of the review process. Use the "Instructions for testing and review" space to add any instructions, credentials, contacts, or other important info that they might need.
App Partner Program main points of contact
To receive important program and product updates add your contact information as well as any teammates that need to be kept apprised of the program. You can add an unlimited amount of contacts by selecting "Add another point of contact."

How do I submit an app listing for review?
Save your app listing and then click "Submit for review." If you missed any required fields, you'll see a number in the tab heading. (See below.)

Reminder: You must be a Super Admin to submit an app listing for review.
How do I edit my app listing once it's live on the HubSpot App Marketplace?
In your developer account, go to App Marketplace > Listings. Hover over the listing you'd like to edit. You'll see a dropdown menu that says "More." Click More > Edit. Make your changes, click "Save" and then "Submit for review."

---
Related docs
App certification requirements