Templates are reusable page or email wrappers that generally place modules and partials into a layout. A template or group of templates can be part of a Theme. Inheriting styles and settings from the theme enables a unified appearance. Templates contain references to stylesheets, JavaScript files and other assets used throughout a website or email. Pages, landing pages, blogs, system pages, and emails on HubSpot all use templates. When content creators create a page or email, they select a template to use before populating it with content.
Templates live inside of the developer file system. The same system you see in the finder inside the design manager and can access using the Command Line Interface (CLI). Not to be confused with the File Manager, which is a file system used by content creators on HubSpot to store assets such as images, videos, and PDFs. This separation enables developers to store their files in a safer place without worrying that a content creator may accidentally break something by moving or deleting a file.
Templates can be created by uploading them to HubSpot using the local dev CLI, or created directly in the Design Manager.
hs create template <name> [dest]
hs create template parameters

| Parameter | Description |
| --- | --- |
| name | Custom name of the template you are creating. |
| dest | A local path to directory you want to create this template in. This argument is optional. If ommited this argument will default to your current working directory |
After creating the template the asset is created locally. You will need to upload the asset to your account before it is reflected in the developer file system and template selection screens. You can also use the watch command to automatically upload all new files and edits to existing files in the current working directory and child directories.
The Design Manager uses the same developer file system in which your templates, layouts, modules, javascript, CSS, and other production assets live.
To create a new template, navigate to Marketing > Files and Templates > Design Tools. This is the Design Manager. In the finder (the leftmost pane) click File > New File.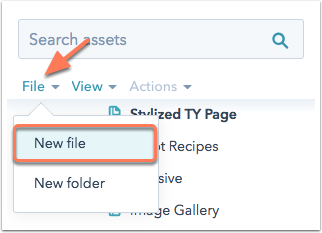 Choose "HTML & HubL" or "Drag & Drop".
Follow the prompt after to select the template type.
Templates can be used for different types of content. In HTML + HubL templates, you can designate the type of template using a simple comment annotation at the top of your .html file. For drag and drop design manager templates, you set the template type only at creation, it cannot be changed later without converting to HTML +HubL. Drag and drop templates do not use template annotations.
You should always check your work after updating templates to ensure they look and function how you intend. HubSpot's Design Manager provides a tool for previewing modules and templates. To preview a template open the template in the design manager, in the top bar click "Preview".

For most templates, the preview will show the default state for the template - the same state you would see if you created a Website Page from the template but did not edit it. There are two preview modes for templates "Live preview with display options" and "Live preview without display options".
Live preview with display options displays the page within an iframe, giving you some tools you can use for testing responsiveness and seeing how domain stylesheets may impact your template.

Blog templates are unique in that because you need a blog listing and blog posts to really get a sense for how the template is working. The preview for the blog lets you pick an existing blog to populate the preview with it's content. From there you can choose to view the listing or detail page for that blog template.
Previewing the templates using the template previewer alone may be good for minor visual tweaks. When changing drag and drop areas, default parameter values on modules, or other significant changes, it's best to create a website page, blog, blog post or email, using the template. You can then try out different module field values and test what your template will look like in the real world and optimize for the best content creator experience.
You can use content staging, a draft preview, or your developer sandbox account to view the page without worrying about the page being live for the world to find and see.
There are certain JavaScript and CSS files that are attached to CMS templates. Some files are automatically included and cannot be removed, while others can be optionally included. To learn more about the order in which stylesheets are attached to CMS content, check out this article.
jQuery is optionally included in the head tag of HubSpot templates. If included, it is rendered as part of the standard_header_includes HubL variable.
In Settings > Website > Pages you can change the jQuery version to 1.11.x, version 1.7.1, or disable it completely. You can also choose to include a jQuery migrate script for backward compatibility with older browsers. You can move jquery to the footer, to improve page performance. Moving jQuery can break javascript relying on it. To test your site add ?hsMoveJQueryToFooter=True to the end of your URL while viewing the most important pages of your website, to ensure nothing breaks.
jQuery was historically included by default because HubSpot functionality previously required it. CMS Hub does not require jQuery. Most of jQuery's functionality now has modern vanilla javascript equivalents, and we encourage using them. If you need to use jQuery, we encourage disabling the default version in settings and using the latest version loaded above the </body> tag.
To test if removing jQuery on your site will break anything, add ?hsNoJQuery=true to the end of the URL while viewing multiple pages of your site especially those with heavy interactivity.
Layout.css (formerly known as required_base.css) is the file that is responsible for styling HubSpot's responsive grid. This file is always automatically included in any drag and drop template. It is not included by default in custom coded templates. For developers utilizing dnd_area tags in coded HTML + HubL templates you do not need to load the layout.css file, but a version of it is included in the cms theme boilerplate to make it easier to get up and running quickly.
In addition to the responsive grid CSS, the file includes some classes that can be used to show and hide elements at different viewports. You can view the file, here.
When building your templates use modules with fields whenever possible for text. This not only makes it possible for content creators to update and change text, it makes it possible to localize later.
---
Thank you for your feedback, it means a lot to us.
This form is for feedback on our developer docs. If you have feedback on the HubSpot product, please
share it in our Idea Forum
instead.