How to Build Customer Trust Through Certification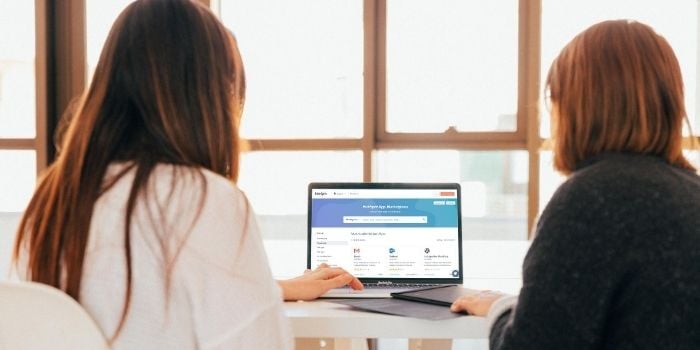 Your app needs to be listed in the App Marketplace before it is eligible for certification. Learn more about listing an app here.
With more than 500 unique apps and over 1 million installs by users, the App Marketplace is a powerful tool for our customers to build and expand their software stack to grow better.
If you're an app partner, it can be challenging to ensure that your app stands out to customers among the ever-expanding sea of options. The best way to overcome this is to build trust with users.

Building trust begins with a focus on quality during development. But how can potential users compare the quality of different apps before installing? This is where certification can help.
We've been investing heavily in the HubSpot app certification process, hiring new team members and making product improvements, in order to make it easier than ever to get certified.
What is certification?
App certification is the process of having HubSpot's product team technically review and approve your listed app for quality and efficiency. In order to best support app certification, we've scaled the team and improved the product to help scale with the ecosystem. Once approved, your app will have a certification flag on your app listing page that looks like this: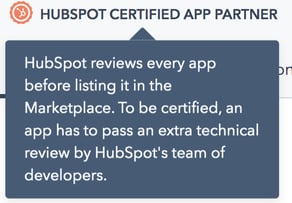 Any eligible app partner can apply for certification through their app developer account. The HubSpot team will then review your submission and your partner manager will provide feedback or confirm your app's certification.


How Certification Helps You Grow
At HubSpot, we value the quality of apps over the quantity in our ecosystem. Certification helps our customers make informed choices by showing that your app meets HubSpot's quality standards. Ultimately, it's about solving for the customer (SFTC) by ensuring our users can find the tools that work best for them.
Becoming a HubSpot certified app comes with a few unique benefits that will help set your app apart and in turn, grow:


Signify quality and earn customer trust.
When customers see a certification badge on your app listing page, it signifies quality and trust.
Certification shows HubSpot customers that you meet our high technical quality, documentation, and UX design standards. It also gives you the opportunity to improve your app based on our product team's feedback.
This is important to customers because meeting these standards ensures your app works well with their HubSpot portal. You can learn more about our specific evaluation criteria for app quality here. Leveraging certification as a differentiator becomes increasingly important as our App Marketplace grows and customers are faced with multiple choices for each solution. Certification lets customers know your app has been vetted by HubSpot.


Gain access to additional distribution opportunities
Certified apps are first in line for distribution opportunities to gain wider visibility across HubSpot.
Certified apps gain visibility in the HubSpot App Marketplace through:
Inclusion in the "HubSpot Certified" nav


Eligible inclusion in the curated App Marketplace Collections for product launches
A certified app flag on the app listing page


Commonly Asked Certification Questions
How do I get certified?
All eligible listed apps have the ability to apply for app certification directly from their app developer account. Navigate to App Marketplace > Listings. Hover to the right of the app you'd like to certify and click "Apply to certify app".

Partners can fill in their information then select "Submit certification application." Once submitted, the HubSpot product team completes a technical review and the app gets feedback or approval from the partner manager. Learn more here.
How does HubSpot review app quality?
Passing certification is like an open book exam where you can ask the professor the answer, and they give it to you. There is no special sauce here. All the certification requirements for app quality can be found here. If you meet these requirements, we'll confirm your app's certification. If you don't we'll reach out to you and give you time to address the problem (up to 60 days).
Specifically, we're looking at three components: technical quality, documentation, and UX.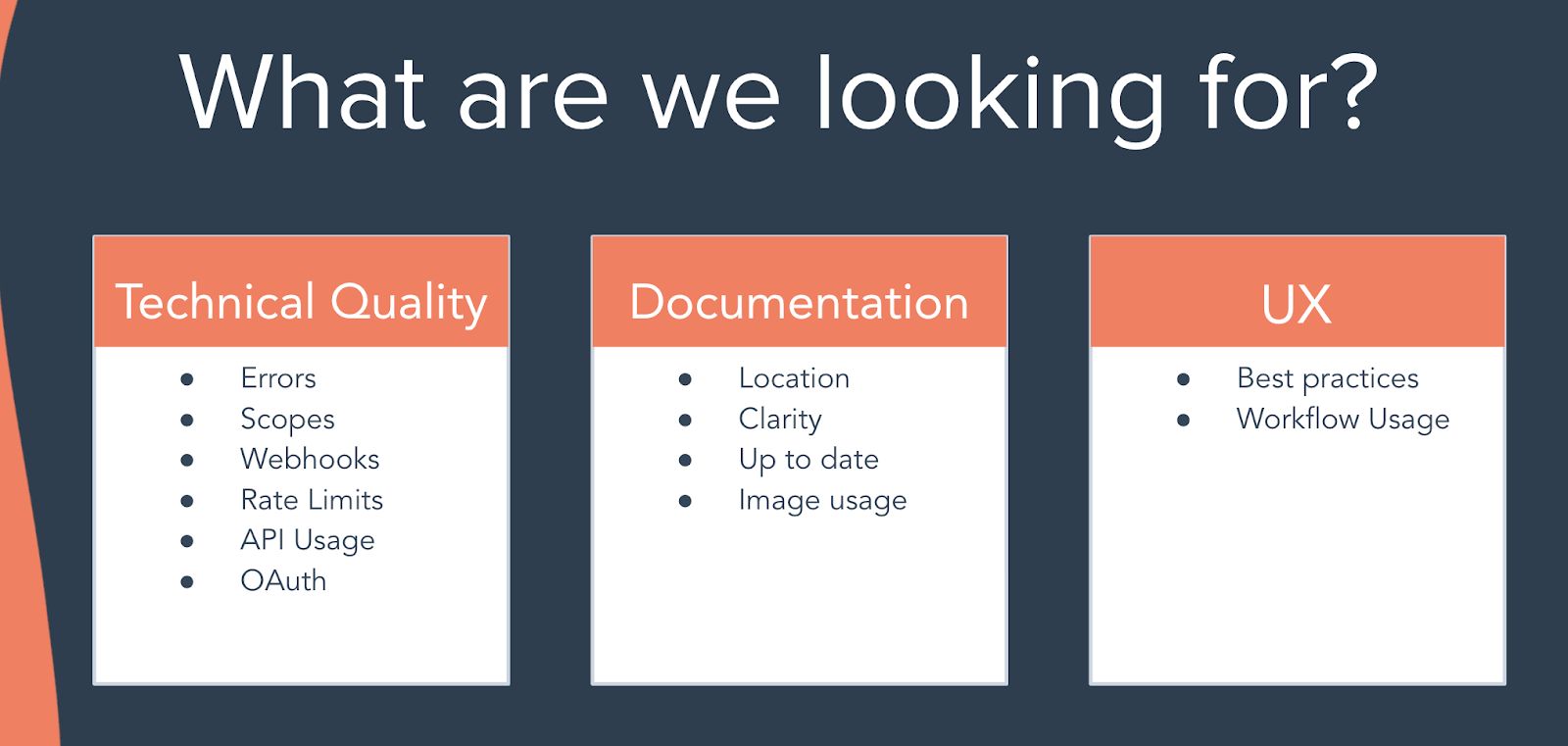 Oftentimes customers struggle with properly installing an app or they run into problems using it, which is why we require documentation. Here's an example of setup documentation to get you started.


Is video required for the certification?
Yes. Video is required because we've found it significantly improves the customer experience when buying and installing an app. Learn more about the requirements for your video here.


If the app falls short of the certification requirements (i.e. API limits/error limits) after the app has been certified, how would that impact certification status?

If at some point your integration/application begins to exhibit issues, we will reach out to you and make you aware of the problems we discovered and give you time to address and remediate. We are here to help, so we'll make ourselves available for questions and recommend best practices as needed. If you are unable to address issues identified, it could potentially result in the removal of your certification.


Apply to certification
Thinking about getting certified? If you meet the current requirements for certification, you should be able to apply through your app developer account.
If you have any questions or concerns about the process, reach out to your app partner manager or contact the HubSpot App Partner team.