12 Ways to Drive Awareness and Adoption of Your HubSpot Integration
|
Abby Uy
HubSpot's app ecosystem provides immense value to customers all over the globe. As an app partner, you join a network of valued ecosystem partners who help our shared customers achieve long-term success.
If you've listed an app in HubSpot's App Marketplace, you might be looking for more ways to promote it in order to increase awareness and adoption.
An effective marketing strategy is key to helping prospective customers find and install your integration. By investing in your app and taking the right steps to establish yourself in HubSpot's App Marketplace, you can more easily grow your business and connect with more customers.
First, make sure you've done the basics to launch your new integration:
Create your listing page

and submit it to be published.
Send an internal

product launch email

within your company.
Send an external product launch email to notify your customers.
Announce to your followers on social media.
Announce with a

press release

.
Once you've completed these steps, you can take it up a notch. Check out this list of 12+ ways that your fellow HubSpot app partners have found success promoting their apps to drive more installs.
---
1. Enhance your App Marketplace listing page
It's essential to make sure that you have a high-quality listing page in HubSpot's App Marketplace since this is the core asset HubSpot will share when marketing your integration, and we also encourage you to share and link to this page when promoting the integration. Customers may also find your app on their own through the App Marketplace, so it's important to present relevant, helpful information upfront.
Users explore the App Marketplace with the mindset of a shopper. In order to make an informed decision and compare products, they rely on transparency and detailed information about your app. If an app listing is missing key details, like a setup guide or demo video, it can impact whether a customer will select your app as a solution.
HubSpot app partner Demodesk built a thorough and informative listing page with helpful product graphics, a demo video, and promotional images. Putting this extra effort into ensuring its listing page has all the information a prospective customer would need helps Demodesk stand out, drives installs, and increases overall awareness of the app and its features.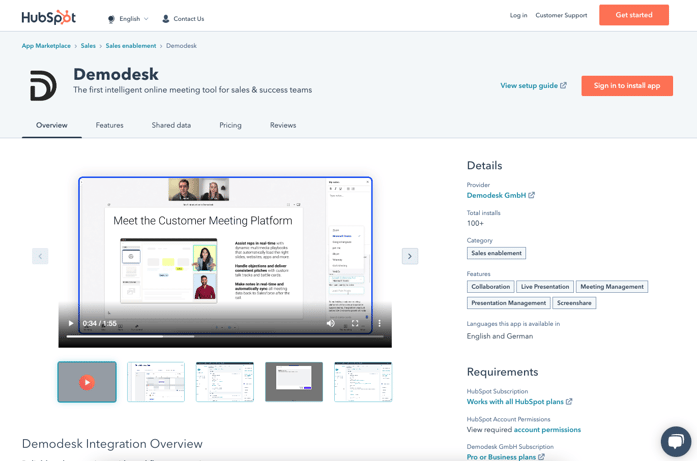 Partner Tip: "Make sure your page on the HubSpot App Marketplace is easy to understand and makes use of all the types of content you can add to the page."

– Alexandra Smith, Sr. Brand & Content Marketing Manager, Demodesk

In addition to adding comprehensive details about your app, there are some other things you can do to differentiate yourself in the marketplace:

A)

Localize your app's listing page

into other languages. Localized listings are shown first in the search results for customers who've set that language as their account's default language. Apps with localized listings in certain languages will also be included in language-based app collections highlighted in the marketplace.

For example, Aircall has published listing pages for their app in English, French, German, and Spanish. Therefore, the app is included in the French, German, and Spanish collections.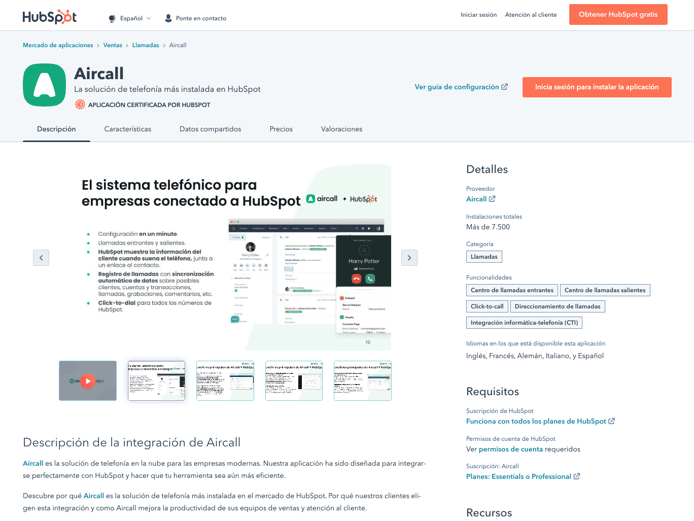 B) Get certified by HubSpot. Certification symbolizes quality and ultimately helps to build trust with prospective users of your app by letting them know it's been reviewed and approved by HubSpot.
To get certified, an app has to pass a further technical review by HubSpot's developer team. Once your app is certified, a "HubSpot Certified App" flag will be added to your marketplace listing page, and your listing will be included when users filter search results to include only HubSpot-certified apps.

For example, QuotaPath got its Sales Commission app certified in March 2022 after initially listing in the App Marketplace in January 2021. Graham Collins, Chief of Staff at QuotaPath, shared that the team has noticed "the quantity (and quality) of the opportunities coming from HubSpot has increased ~2x since receiving the app certification." He noted that being certified plays a big part in this since it leads to increased trust from users.
QuotaPath's efforts have led to huge success for their HubSpot integration, with the close rate on HubSpot deals being nearly 3x the close rate of all other CRMs.
Partner Tip: "Getting our app certified by HubSpot is something that has had a big impact on us. I would recommend getting that set up as quickly as possible. It builds trust in what you're doing and HubSpot makes it very easy!"
– Graham Collins, Chief of Staff, QuotaPath
2. Showcase your app on your website, marketplace, or in-app
After being listed in HubSpot's App Marketplace, don't forget to feature your HubSpot integration prominently on your own website, within your integration directory or marketplace, or even in-app. This is another simple way to reach many potential installers and increase app adoption. You can also link to your listing page in HubSpot's App Marketplace from these places.
Typeform is an app partner that has prominently highlighted its HubSpot integration on multiple in-product marketplace pages. The increased visibility that comes from these pages can greatly impact a user's ability to discover and install the integration. For example, Typeform saw new installs of their integration with HubSpot hit an all-time high in the month where it was highlighted in the #1 position within their own marketplace.
In another example, Demodesk built a dedicated page on their website to highlight their integration with HubSpot. The page showcases related help center articles and a video demo. They also deployed banners on their website and in-product to initially announce the integration.
3. Enable your own employees and teammates
Listing your app publicly on HubSpot's App Marketplace can create a lot of new opportunities for your company. It's crucial to make sure all your internal teams are on the same page. You can do this by creating enablement content for your sales and services teams to reference when talking about your app. This could be a one-pager about the app, why it matters, and a link to your HubSpot listing page for more details.
For example, after being named one of the top 30 HubSpot integrations built by G2 industry leaders and certified by HubSpot, ChurnZero launched a multi-channel campaign to promote this achievement. ChurnZero spread the word about this news across many different channels, including their own press releases, social posts, newsletters, and blog posts.
With all of these promotional channels, it was essential for ChurnZero to not only engage with customers and prospects through marketing, but to also have their own teams aware, educated, and excited to share the campaign. Ultimately, ChurnZero had one of their highest demo request months of the year when this campaign launched.
Partner Tip: "The secret weapon is employee engagement. If you're running a HubSpot partner campaign, make sure your internal teams (Customer Success and Sales) are in the loop and can help spread the word to prospects/customers."
– Cori Webb, Director of Marketing, ChurnZero
4. Provide free resources and templates
Providing free resources to current and potential customers is another way to build interest in your integration and allow customers to quickly experience value.
For example, Coefficient is an integration that allows users to automatically sync HubSpot data with Google Sheets. On their website, Coefficient provides free pre-built dashboard templates specifically for integrating with HubSpot.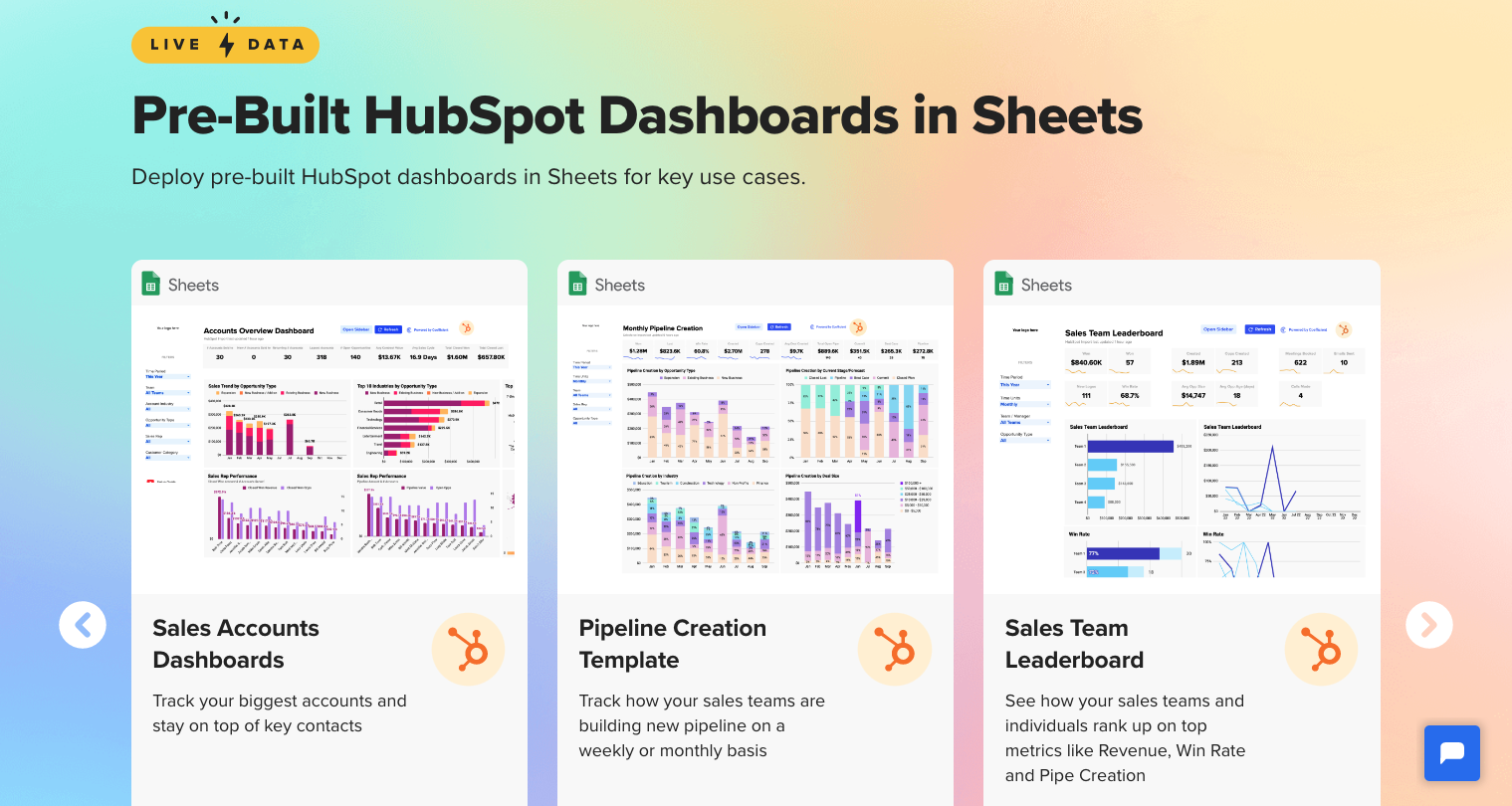 Hannah Recker, Growth Marketing Lead at Coefficient, shared that "not only do the templates provide a source of new leads and brand awareness via search, but they also provide users an easier way to experience the value of the platform, speeding up activation of new trial users."
Coefficient has hundreds of contacts sign up to use their various integration templates every month, with templates gaining traction via organic and paid search promotion and existing user demand.
Partner Tip: "If you're doing templates or thinking about it, you're not the only one. It's important to maintain quality as you scale a template program and find creative ways to capture audience demand and engagement."
– Hannah Recker, Growth Marketing Lead, Coefficient
5. Send targeted and timely emails
Many, if not all, app partners use email campaigns to spread the word about their HubSpot integration.
In addition to announcement emails, abandoned cart emails are a creative way to drive adoption of your integration. The Typeform team noticed that a common friction point when installing integrations was a user starting the process, but not finishing the final configuration step.
Now, when someone begins the process but doesn't complete the entire installation, Typeform sends them an automated follow-up email with links to a help guide and a demo video that features top use cases for connecting HubSpot and Typeform. Most importantly, it prompts them to complete the installation process.
In an experiment to test this new initiative, Typeform found that those who received the integration abandonment message were over 18% more likely to successfully install the integration than those who did not receive the email.
Partner Tip: "Look for friction points across the customer journey and determine where it makes sense to use a conversational bumper to bring users from their current state to their desired outcome."
– Chris Cooning, Principal Product Marketing Manager, Typeform
6. Host engaging webinars and virtual events
Many HubSpot app partners have found success using webinars and live virtual events to promote their integrations. For example, Sakari SMS has hosted live webinars twice a week for more than two years.
In these webinars, they discuss and demo their integration with HubSpot. Adam Horsman, Co-Founder at Sakari, emphasized that "these webinars are a great way to onboard new customers, refresh existing customers, and sell new leads on the capabilities." Sakari has also seen strong install growth from this promotion, going from 0 installs to nearly 5,000 in just the past three years.
A8 Labs is another app partner who ran a webinar to promote their app, Zaybra. They had panelists speak on the topic of "How Subscription Data Empowers Your Go-To-Market Teams", and now the webinar lives as an on-demand resource on their website.
Partner Tip: "Be consistent. Whether it's one person or two dozen, keep the course and your audience will continue to grow. Having that consistent forum for partners to direct their customers to gives your partners a sense of stability."
– Adam Horsman, Co-Founder, Sakari
7. Give gifts to prospects
Who doesn't love getting free gifts? RollWorks ran a "Better Together" direct mail program as part of a larger HubSpot-specific campaign celebrating "being the only HubSpot-certified ABM platform."
Target accounts first received messaging and offers about things that pair well together (such as inbound marketing and ABM, or chocolate and champagne.) This multi-channel approach consisted of direct mail, email, programmatic digital ads, and coordinated sales outreach.
Then, these target contacts were able to select a gift they wanted from options like "a bottle of Port and artisanal chocolate" or "surf and turf with fresh lobster and filet mignon." These pairings were all meant to remind people of HubSpot and RollWorks as the perfect pairing. After their gift redemption, contacts got the opportunity to learn more about RollWorks via chatbot or express further interest with a direct call.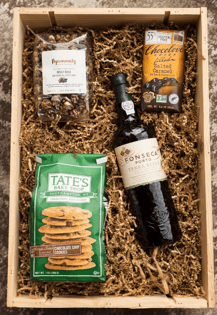 The RollWorks team continued this gifting strategy in a different way at HubSpot's annual event, INBOUND. A core part of their sponsored lounge space was a live screen-printing experience, where guests could choose from several different designs, colors, and sizes to personalize a shirt or tote bag.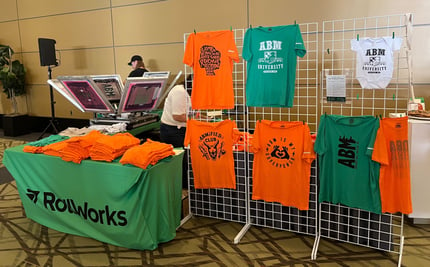 Over 1000 guests redeemed a screen-printed item from the RollWorks ABM Lounge at INBOUND 2022. This personalized gifting experience helped attract guests into the lounge where they could learn about the integration, engage with the RollWorks team, and learn more about how ABM and RollWorks can help them solve their current marketing problems.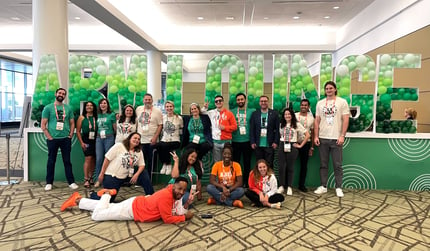 Partner Tip: "We aimed to provide a special interactive experience to guests by having their personalized items created while they explored other elements provided in the lounge (speakers, demonstrations, coffee and snacks)."
– Ivana Applegate, Sr. Strategic Partner Manager, RollWorks
8. Sponsor events like INBOUND
RollWorks wasn't the only app partner at INBOUND; more than half of the INBOUND 2022 sponsors were HubSpot app partners. INBOUND is an ideal opportunity to drive awareness of your integration among thousands of attendees and HubSpot customers, as there are tons of in-person, digital, hybrid, and custom activation experiences available to make your brand stand out.
A key aspect of sponsorship at the in-person INBOUND experience is a physical structure for your company where you can highlight your product and integration. These sponsor booths are placed on the main show floor, right in the middle of all the action, giving attendees the opportunity to naturally approach and engage with your team over the course of the event. To attract even more foot traffic, sponsors may have interactive games, free giveaways, and fun activities at their booths.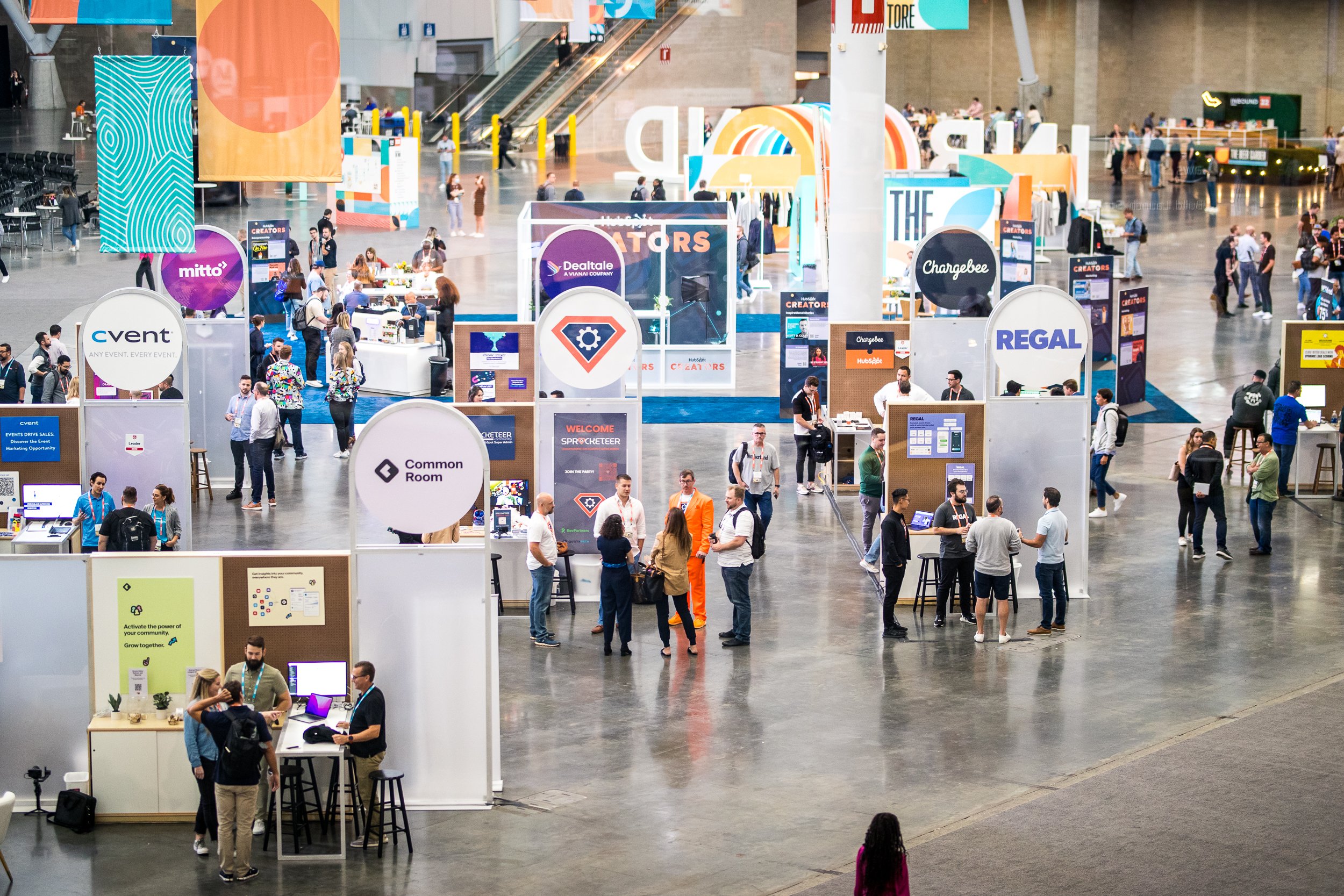 Photo: Pattianne Stone
One INBOUND 2022 sponsor was Zuper, who finished up a two-part multi-channel launch campaign with a sponsorship at INBOUND. Zuper's presence at INBOUND included leading a co-created speaker session as part of their sponsorship package, and participating in an additional deep dive with other app partners.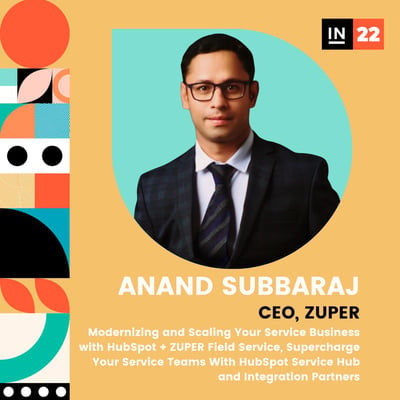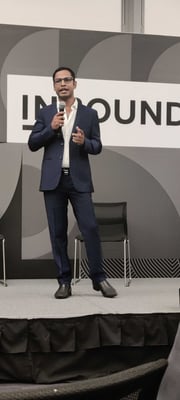 The sessions had over 250 attendees and showcased how Zuper's solution can help amplify the power of HubSpot's platform. This visibility helped Zuper to build awareness for their HubSpot integration and gain new leads and customers at their sponsor booth, ending the event with over 200 prospect conversations and a huge sponsorship success.
Partner Tip: "Book in for the INBOUND event early! And send brochures/leave behinds for the sessions."
– Carmen Williams, Head of Product Marketing, Zuper
9. Host your own in-person events
Beyond large events like INBOUND, there are plenty of other opportunities to engage potential customers in-person by hosting your own events. One such example is Outgrow, which organized a physical event with a HubSpot user group in Berlin.
Saksham Sharda, Creative Director and CIO at Outgrow, shared that the event "was a great way of engaging in an intellectual conversation with the audience while at the same time encouraging them to use Outgrow and HubSpot together to boost their social lead generation." Outgrow saw a 20-30% conversion rate from the audience and also had one of the fastest-growing apps in HubSpot's App Marketplace that same year.
Partner Tip: "HubSpot's partner ecosystem is a great place to build symbiotic relationships with other companies. Look for apps that complement what your app does and organize an event or webinar with them together."
– Saksham Sharda, Creative Director and CIO, Outgrow
10. Optimize paid search
Paid search marketing and pay-per-click (PPC) advertising on search engines like Google can be a great way to spread the word about your app to a wide or targeted audience.
For instance, GReminders drives awareness of their HubSpot integration primarily via Google Ads. Since integrating with HubSpot, the team was able to add HubSpot to their list of keywords and created specific ads targeting HubSpot users.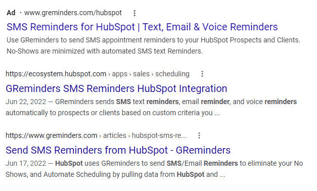 Users who click an ad are led to a landing page with information about the GReminders + HubSpot integration and a CTA to start a free trial. If a HubSpot user signs up for a free trial, GReminders can then follow up with setup information and other support resources to help them get started.
In the 90 days after launching their HubSpot integration, GReminders saw a rapid increase in their number of customers who are HubSpot users. They even gained several large clients specifically because of their HubSpot integration. Many of these customers found GReminders through Google, so the GReminders team plans to continue this Google Ads campaign for the foreseeable future.
Partner Tip: "When it comes to any type of advertising, you must stick with it even if you don't see immediate results. This is especially true for any Google Ad campaign as it can take months for Google's algorithm to recognize conversion patterns."
– Mark Hill, Marketing Director, GReminders
11. Publish blog posts linking to your listing page
A blog post can help you explain the value of your app, common use cases, customer case studies, and the potential impact of connecting separate systems. You can link to your listing page in HubSpot's App Marketplace from a blog post as well. Then once published, you can increase distribution by sharing the blog post across social media, running paid ads, promoting via email, and backlinking from other relevant content.
Lately is an example of an app partner who utilizes blogs to promote their integration. They published blog posts announcing their relationship with HubSpot and blog posts about how to use Lately with HubSpot.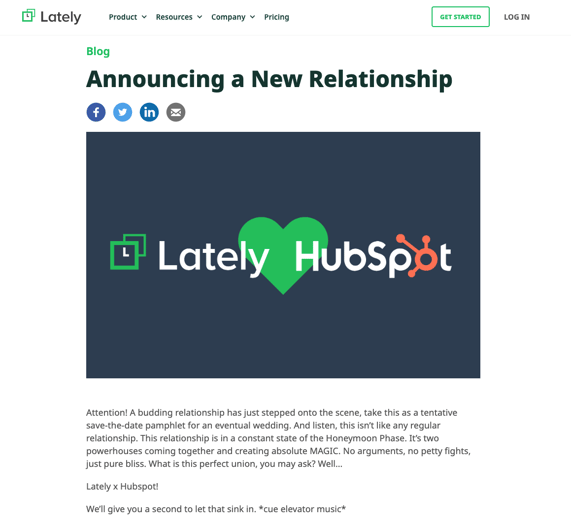 Lately even has a blog post about how you can combine the power of HubSpot and Lately to create more engaging blog posts and get maximum value from them. Lately then runs all of their blog posts through their own AI platform to further promote them via social media.
12. Engage people on social media
Paid social and organic social posts can be a fantastic way to reach existing and potential customers where they're most active. You can even use social media marketing to further promote your current campaigns.
Demodesk is one example of an app partner who utilized social to announce its integration launch and build awareness. This promotion included both a teaser post and a full launch announcement post on LinkedIn, Twitter, and Facebook.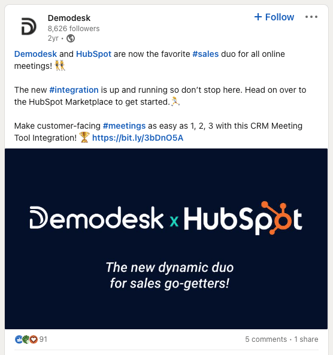 Lately is also a huge champion of the value of social media promotion. Through both owned media and earned media, the Lately team already had lots of material (blogs, webinars, newsletters) they were using to promote their HubSpot integration.
The team employed their own AI platform to automatically create dozens of social posts from the original long form content, pulling out text snippets from blog posts or video clips from webinars.
Lately also applied the same strategy to their integration page, which was similarly clipped up into social-worthy headlines and quotes. Lately made sure that each social media post was driving traffic back to the main webpage, blog post, or video.
As a result of the multiple HubSpot-related promotions they ran, Lately's self-service product saw a 49% sales conversion.
---
These 12+ tips should help you find new creative ways to drive awareness and adoption of your integration. If you have an interesting story of a campaign you've done to promote your integration, let us know here or reach out to your app partner manager.
If you haven't already listed an app in HubSpot's App Marketplace, you can learn more about joining the program here.