Asset Marketplace: New validation requirements released to Asset Marketplace listing flow
What is it?
Today, HubSpot updated the Asset Marketplace listing flow to reflect the latest theme requirements. These new standards are required of all new themes going forward, and we request any existing themes to update by May 1, 2023.
Like before, anyone submitting their theme will experience several automated validation checks – now against a more expansive list of requirements. Any failed checks are accompanied by recommended solutions, so themes are easily updated and resubmitted for faster review and approval.
Why does it matter?
We are committed to offering high quality themes to our customers that deliver a delightful website building experience. We also want to ensure theme partners are set up for success in upcoming product releases.
By updating pre-submission validation to include the latest theme requirements, we hope to give you a faster time to market, more transparent listing experience, and accelerated approval times.
How does it work?
Last year, HubSpot dev docs were updated to reflect the latest theme requirements. We highly recommend you complete the following by May 1, 2023.
In your Asset Marketplace provider account, navigate to Asset Marketplace, then Listings.
Click the name of the listing you want to update, which will bring you to the listing editor.
Here you can make any changes to your listing, then click the Reviewtab.
On the Review tab, you'll be prompted to

re-run validation.
If it passes, resubmit your theme for approval.
If it fails, you can view the detailed list of errors and recommended updates. See a preview of this experience below. Please make these changes, and resubmit your theme for approval.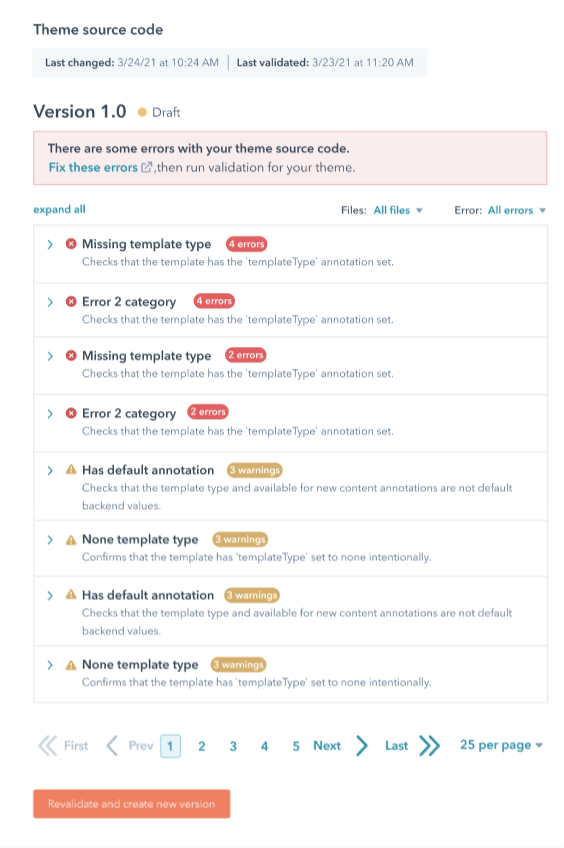 Who gets it?
Going forward, all new themes will be compliant with the latest requirements. All existing themes listed in the marketplace are asked to update by May 1, 2023.
For more information about the listing process, please refer to the developer docs. Questions? Email us at cmspartners@hubspot.com.
Discuss this update on our community forum post here.