Starting 8/18/2020 the Asset Marketplace will no longer be accepting New Drag and Drop Templates and Template Packs
Drag and Drop Templates were HubSpot's original way of allowing users to build website and landing page templates on the HubSpot Platform. Over the years, we have introduced more sophisticated ways for developers to build sites on our CMS Hub that have now become the standard for building websites on the HubSpot Platform.
What's Happening?
Starting 8/18/2020 the Asset Marketplace will no longer be accepting new submissions of "Drag and Drop templates" or "Template Packs". These are templates that utilize the HubSpot Drag and Drop system as pictured below. New email templates submissions will continue to be allowed.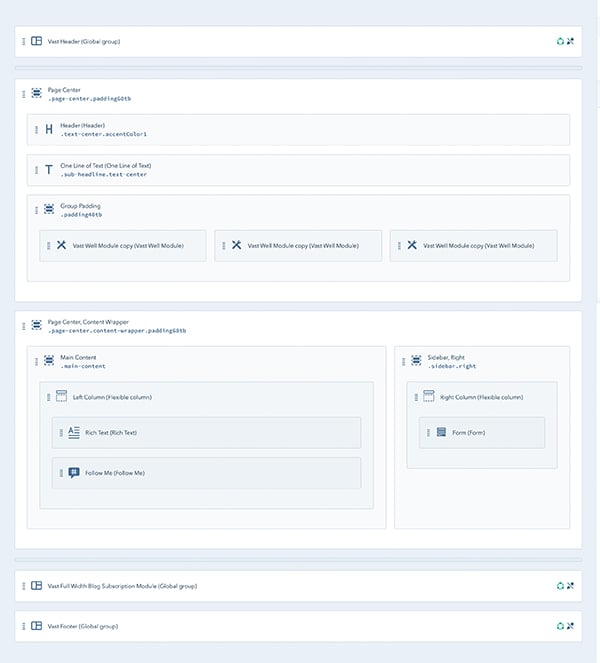 Why is this happening?
Since the release of CMS Hub, HubSpot has introduced newer and more powerful features to aid users in building their websites. This comes in the form of dnd_areas on template coded files and the introduction of Themes. To keep in line with best practices for developing on the HubSpot platform, we will be removing the ability to submit Drag and Drop templates and Template Packs on the Asset Marketplace starting August 18th, 2020.
What submission will be allowed in the Asset Marketplace come 8/18/2020?
The following is a list of assets that will continue to be accepted in the Asset Marketplace starting 8/18/2020:
Website Themes
Email Templates
Custom Modules
Updates to existing marketplace Drag and Drop Templates or Template Packs including:
Website Templates
Landing Page Templates
Blog Templates
System Page Templates

Error Page Templates
Password Page Templates
Subscription Preference Page Templates
Membership Templates
Search Results Templates
Want to discuss this change? Hop on over to our community post here.